CPP is short for cerebral perfusion pressure.
Cerebral perfusion pressure (CPP) is the net pressure gradient that drives oxygen delivery to cerebral tissue.
We can also say that CPP is the difference between the mean arterial pressure (MAP) and the Intracranial Pressure (ICP), measured in millimeters of mercury (mm Hg).
Normal CPP lies between 60 and 80 mm Hg, but these values can shift to the left or right depending on individual patient physiology.
Formula to calculate CPP.

Mean arterial pressure or MAP, is defined as the average pressure in a patient's arteries during one cardiac cycle.
Intracranial pressure (ICP) is defined as the pressure within the craniospinal compartment, a closed system that comprises a fixed volume of neural tissue, blood, and cerebrospinal fluid.
Example:
Suppose a patient's MAP is 90 mm Hg and the ICP is 12 mm Hg. Calculate the CPP.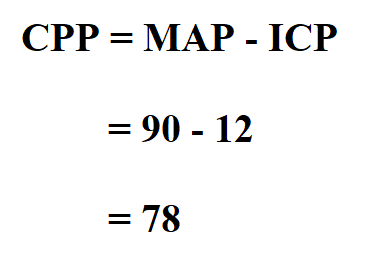 Thus, the patient's CPP is 78mm Hg.