Mean arterial pressure or MAP, is defined as the average pressure in a patient's arteries during one cardiac cycle.
The normal MAP range is between 70 and 100 mm Hg. MAP that deviate from this range for prolonged periods of time can have drastic negative effects on the body.
MAP is considered a better indicator of perfusion to vital organs than systolic blood pressure.
Formula to calculate MAP.
To calculate mean arterial pressure, we begin by doubling the diastolic blood pressure,
Then add the systolic blood pressure,
And then divide the result by 3.
The diastolic pressure is specifically the minimum arterial pressure during relaxation and dilatation of the ventricles of the heart when the ventricles fill with blood. It is the bottom number.
Systolic pressure is the amount of pressure in your arteries during the contraction of your heart muscle. It is the top number.
Example:
If your systolic pressure is 120 mm Hg and diastolic pressure is 80 mm Hg. Determine the mean arterial pressure.
We double the diastolic pressure, add the systolic pressure and then divide by 3.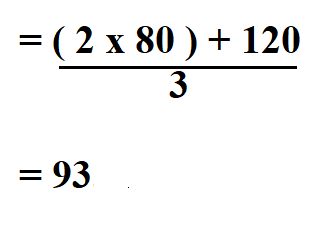 Therefore, your mean arterial pressure is 93 mm Hg.