In this article, we will define and discuss how to calculate BAC. BAC is short for blood alcohol content and its defined as a measure of alcohol in the blood as a percentage. It is calculated in grams per 100 ml of blood.
BAC can be measured within 30-70 minutes after drinking. Contrary to popular belief, nothing can lower BAC except time; coffee, cold showers, and chugging glasses of water will not help you sober up any faster.
Factors Affecting BAC.
The amount of alcohol a person consumes.
The speed at which a person consumes alcohol.
Additionally, a person's gender is another factor. Female tend to less water in their body than males. Alcohol is highly water soluble and a person's BAC is directly proportional to their total body water content.
A person's weight. Heavier people have more water in their body which helps in lowering alcohol to blood ratio.
Persons fat or muscle content. Alcohol tends to be absorbed a lot more in tissues which are rich in water such as muscle rather than fatty tissues.
Medication and the amount of food in the stomach.
A person's age. Younger people tend to usually metabolize alcohol more quickly than older people.
Formula to Calculate BAC.

R is a constant, for male its 0.68 and for female its 0.55.
Example:
Suppose a man took 14 grams of alcohol and he weighs 70,000 grams. Calculate the man's BAC.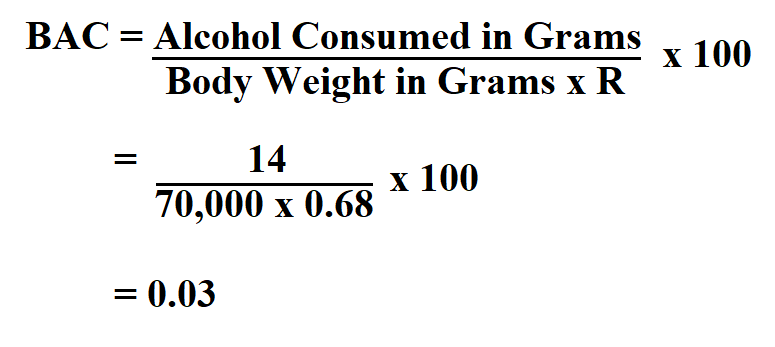 Thus, the man's BAC is 0.03.