In this article, we will discuss how to calculate kWh but before that lets define a watt. Watt is the SI unit of power, equivalent to one joule per second while a kilowatt is a measure of one thousand watts of electrical power.
The kilowatt-hour (kWh) is a unit of energy equivalent to one kilowatt (1 kW) of power expended for one hour (1 h) of time. For example, if you clean your floors with a 2,000-watt vacuum cleaner for one hour, you consume 2 kWh of energy.
Formula to Calculate kWh.
To calculate kilowatt hour, we multiply the power in watts by the number of hours and then divide by 1000 to get kWh.

Example 1:
Suppose a phone battery of power 200 W lasts for 2 hours. Calculate its kilowatt hour.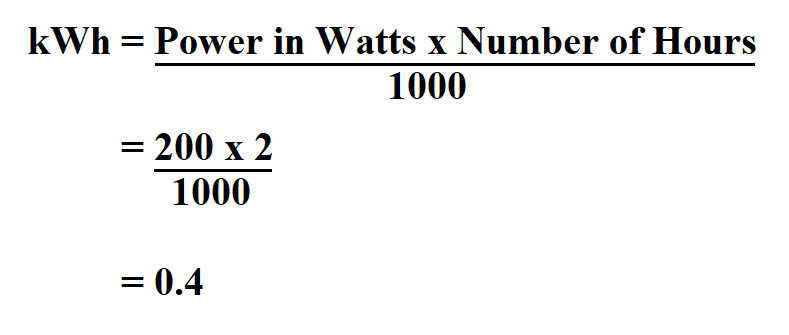 Therefore, the phone's battery energy is 0.4 kWh.
Example 2:
Suppose you have ten 75 watts bulbs. If you left them on for 6 hours, determine their kilowatt hour.
kWh = (Power in Watts x Number of Hours) ÷ 1000
= ( 75 x 10 x 6) ÷ 1000
= 4.5kWh
Example 3:
If you have a 40 watts kid's nightlight that stays on for 14 hours everyday. Calculate its kilowatt hour.
= (40 x 14) ÷ 1000
= 0,56 kWh