In this article we will learn how to calculate amps, prior to that, lets define what it is. Amperes, commonly known as amps, measure the flow of electricity as an electric current. Specifically, they measure the amount of electrons that flow past a certain point per second.
An ammeter is a measuring instrument used to measure the current in a circuit.
Formula to Calculate Amps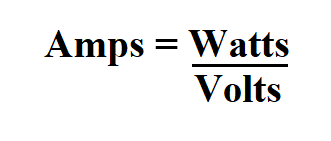 A volt is the unit of electric potential difference and it measures the difference in the amount of energy that charge carriers have between two points in a circuit..
The watt (W) is a unit of power used to measure the amount of energy being released.
Example 1:
Suppose you measured 60W and 12V, calculate the amperes.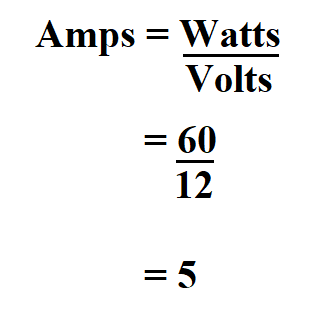 Therefore, there are 5 amperes.
Example 2:
How many amps is 1500 watts at 12 volts?
Amps = Watts ÷ Volts
= 1500 ÷ 12
= 125 Amperes
Example 3:
How many amps is 240 watts at 120 volts.
Amps = Watts ÷ Volts
= 240 ÷ 120
= 2 amps.
Example 4:
Suppose you have a 75 watt bulb in a lamp that is plugged into a 240-volt outlet, how many amps will it draw.
Amps = Watts ÷ Volts
= 75 ÷ 240
= 0.3125 amps.