In this article, we will learn how to convert watts to amps, but before that let define watts. Watt is a measure of power. One watt (W) is the rate at which work is done when one ampere (A) of current flows through an electrical potential difference of one volt (V) .
Amps(A) short for ampere is the base unit of electric current.
The rate at which electricity flows is measured as an electric current. The electric current is measured in amps. An ammeter is a measuring instrument used to measure the current in a circuit.
Formula to Convert Watts to Amps.
To convert W to A, we use the formula below.

Volts is the the SI unit of electromotive force, which is the difference in potential that would carry one ampere of current against one ohm resistance.
Example 1:
Suppose a bulb consumes 100 watts when it is on, calculate the current in the circuit if the voltage is 120 volts.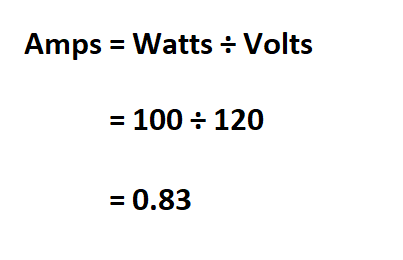 Therefore, the current is 0.83 amps.
Example 2:
If you have a 10000W electrical appliance connected to a 240V circuit, how much power will it be drawing?
= 10,000 ÷ 240
= 41.7 amps.
Example 3:
Suppose your 1000W air conditioner is plugged into a 120V voltage. How many amps are there in 1000.
= 1,000 ÷ 120
= 8.3 amps.
Watts to Amperes Conversion Table.
| | | | |
| --- | --- | --- | --- |
| Watts | Amps@120V | Amps@240V | Amps@480V |
| 10 | 0.083 | 0.042 | 0.021 |
| 20 | 0.167 | 0.083 | 0.042 |
| 30 | 0.25 | 0.125 | 0.063 |
| 40 | 0.333 | 0.167 | 0.083 |
| 50 | 0.417 | 0.208 | 0.104 |
| 60 | 0.5 | 0.25 | 0.125 |
| 70 | 0.583 | 0.292 | 0.146 |
| 80 | 0.667 | 0.333 | 0.167 |
| 90 | 0.75 | 0.375 | 0.188 |
| 100 | 0.833 | 0.417 | 0.208 |
| 200 | 1.667 | 0.833 | 0.417 |
| 300 | 2.5 | 1.25 | 0,625 |
| 400 | 3.33 | 1.667 | 0.833 |
| 500 | 4.17 | 2.083 | 1.042 |
| 600 | 5.0 | 2.5 | 1.25 |
| 700 | 5.83 | 2.917 | 1.458 |
| 800 | 6.67 | 3.33 | 1.667 |
| 900 | 7.5 | 3.75 | 1.875 |
| 1000 | 8.3 | 4.167 | 2.083 |