What are Amp Hours?
First off, lets define amps and then discuss how to calculate battery amp hours. An amp, short for ampere, is a unit used to measure the rate at which electricity flows. While amp hour(Ah) is the rating used to tell consumers how much amperage a battery can provide for exactly one hour.
Depending on the size of the battery in question, amp hours can also be calculated in smaller units such as milli amp hours, mAh.
Deep cycle batteries, which are designed with more robust battery plates and materials to handle frequent charge and discharge cycles, are measured in Ah, as well as with 'C' ratings.
Formula to Calculate Battery Amp Hours.

The watt-hour is a unit of energy equal to one watt of output for an hour.
Volts is the measure of the potential energy difference between two points in a circuit.
Example 1:
Suppose you were to measure the amp hours of a 12 volts battery whose watt hour is 1200.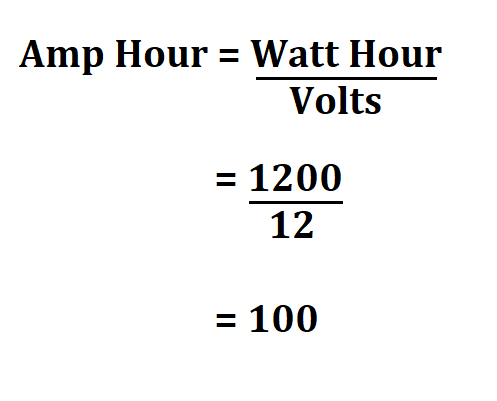 Therefore, the battery's watt hour is 100.
Example 2:
Suppose you lit your 75 watt bulb for 5 hours. What is its amp hours.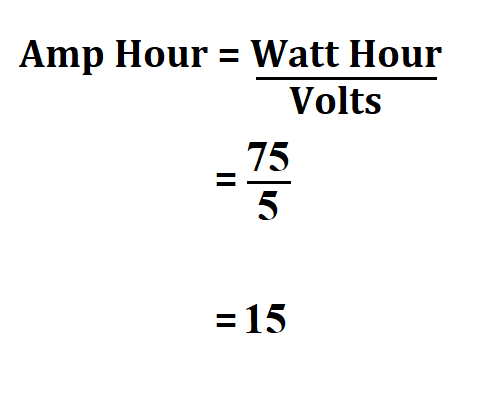 Hence, the bulbs watt hours is 15.
Example 3:
How long will a 200Ah battery run an appliance that requires 1,000W.
We begin by converting the amp hours to watt hours. 200Ah battery running on 12V has a battery capacity of 2,400Wh.
Then we divide the Wh by the W.
= 2,400Wh ÷ 1,000W
= 2 hours 24 minutes.