What is Specific Heat?
We all know very well what is heat and what it is capable of doing. But, specific heat is a concept that very few people know about. Here we will define and discuss how to calculate specific heat.
Different materials would warm up at different rates because each material has its own specific heat capacity. Basically, specific heat is refers to the ratio of the quantity of heat that we require to raise the temperature of a body by one degree that we need to increase the temperature of an equivalent mass of liquid (water) by one degree.
In addition, substances that have a high specific heat capacity are a suitable material for constructing things like kettle handlers, insulators and oven covers. This is because, a high amount of heat will cause only a small change in temperature hence the material won't get hot too fast.
Also, specific heat capacity is measured in J/kg K or J/kg C and BTU / lb °F in imperial units.
Formula to Calculate Specific Heat Capacity.
Find the initial and final temperature as well as the mass of the sample and energy supplied.
Subtract the final and initial temperature to get the change in temperature (ΔT).
Multiply the change in temperature with the mass of the sample.
Divide the heat supplied/energy with the product.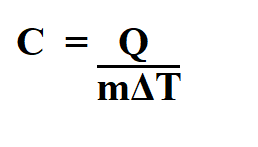 Q = refers to the heat energy in Joules (J)
m = refers to the mass of the substance in kilogram (kg)
c = refers to the specific heat in joules per kilogram (J/kg.K)
ΔT = refers to the change in temperature in kelvins (K)
Example:
5 Kg off water in a pot is heated by transferring 1,676,000 J of heat energy to the water. The temperature is raised by 80.0 K. Find the specific heat of water?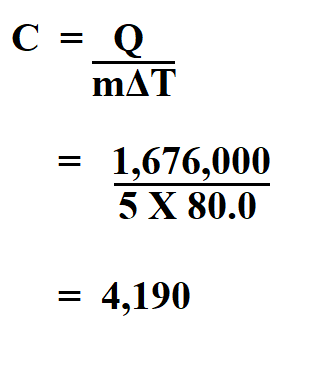 Therefore, the specific heat of the water is 4,190 J/kg⋅k.