The specific heat is the amount of heat per unit mass required to raise the temperature by one degree Celsius.
Substances that have a high specific heat capacity is suitable as a material for constructing kettle handlers, insulators and oven covers, because, a high amount of heat will cause only a small change in temperature hence the material won't get hot too fast.
Formula to calculate specific heat capacity.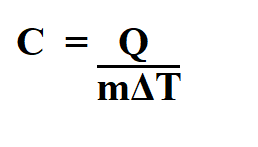 Q = refers to the heat energy in Joules (J)
m = refers to the mass of the substance in kilogram (kg)
c = refers to the specific heat in joules per kilogram (J/kg.K)
ΔT = refers to the change in temperature in kelvins (K)
Example:
5 Kg off water in a pot is heated by transferring 1,676,000 J of heat energy to the water. The temperature is raised by 80.0 K. Find the specific heat of water?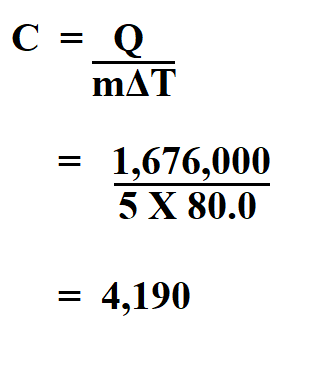 Therefore, the specific heat of the water is 4,190 J/kg⋅k.