VO₂ max is the maximum rate of oxygen your body is able to use during exercise.
VO₂ max is important as it can be used as a representation of how much oxygen your body uses during exercise at a maximum effort.
Formula to calculate VO₂ max.

MHR is the maximum heart rate.
RHR is the resting heart rate.
Example:
Calculate your VO₂ if your MHR is 175 beats per minute. and your RHR is 70 beats per minute.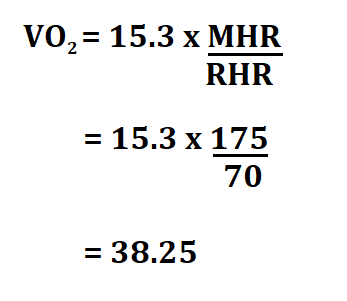 Therefore, your VO₂ is 38.25 ml/kg/min .