What is Marginal Product?
In this article, we will explain how to calculate marginal product but before that, lets define marginal product. Marginal product can be defined as an increase in total production of a factor of production that is capital, labor, land, etc., resulting from the increase in one unit in the factor of production. In contrast, other factors of production are kept constant.
The law of diminishing marginal productivity, also known as the law of diminishing marginal returns, is an economic principle that states that increases on the input side of production will result in marginal increases in productivity. However, productivity will decrease with each additional input until actually resulting in negative productivity returns.
Factors Affecting Marginal Product Output.
First, there is an increased production element. This is because of the increased production factor.
Customer demand affects marginal product output. It makes sense for companies to hire more employees or purchase more machines to create merchandise if there is a higher demand for the product.
To improve the marginal product output, it is best to make minor adjustments to one element of production at a time. If you add more employees, purchase more warehouse space and invest more capital into merchandise all at once, it will be challenging to determine which of these elements had the most positive impact on revenue.
Uses and Relevance of Marginal Product.
Marginal product helps companies determine the increase in production that results from the addition of a unit of a factor of production. For instance, if the factor of production is labor, the objective for the firm is to search for the optimal level of several employees it must hire to achieve maximum revenue and output.
Formula to Calculate Marginal Product.

Qn is the Total Production at time n
Qn-1 is the Total Production at time n-1
Ln is the Units at time n
Ln-1 is the Units at time n-1
Example
Suppose the first employee of a company makes 10 articles a day. Determine the marginal product.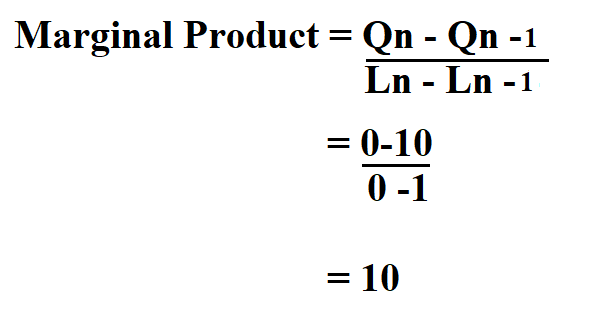 Therefore, the marginal product is 10.