Prior to discussing how to calculate margin, let us define. In business, margin refers to the difference between the seller's cost for acquiring products and the selling price.
In accounting, margin refers to three specific Income statement calculations. They are gross margin, operating margin, and net profit margins.Owners, managers, and analysts look to all three of these margins as measures of the company's earning performance.
While dealing with margin you need to understand the three terms.
Revenue: Income you earn by selling your products and services.
Cost of goods sold (COGS): Expenses that go into making your products and providing your services.
Gross profit: Revenue left over after you pay the expenses of making your products and providing your services.
The type of margin we will discuss is the gross profit margin, which describes the profit that you earn on a product as a percentage of the selling price.
Formula to Calculate Margin.

Example 1:
Suppose a bottle of water goes for $3, if it takes the processing company $1 to put it in the market, calculate the margin.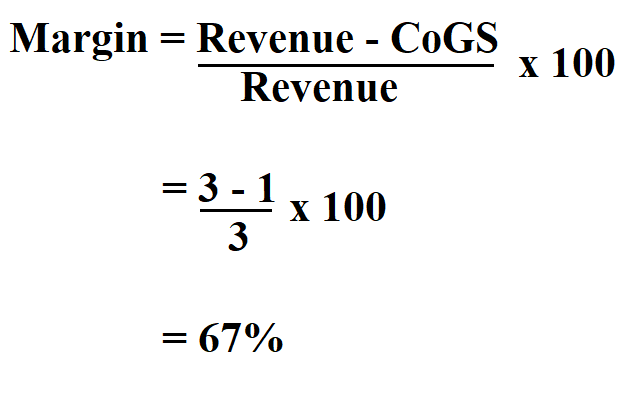 Therefore, the margin is 67%.
Example 2:
If it takes a manufacturing company $1 to manufacture a book. Calculate the margin if that month they sold 200 books each at $4.
We begin by finding the total revenue.
Total Revenue = Quantity Sold x Price
= 200 x 4
= $800
Then we find the CoGS.
CoGS = Cost of Production x Quantity
= 1 x 200
= $200
Then we find the margin.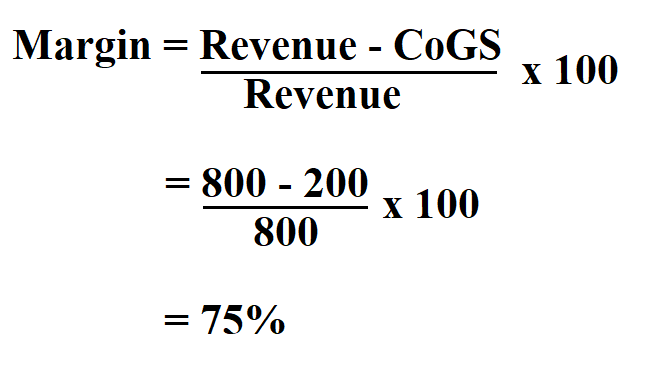 Hence, the margin is 75%.