What is Total Revenue?
In this article we will define and calculate total revenue. Lets begin with the definition. In economics, total revenue also known as total sales or gross revenue refers to the total receipts from sales of a given quantity of goods or services.
Total sales doesn't deduct any of the expenses that go into selling a product or service, so it won't give you a detailed picture of the health of your business or your sales. But if all you want to know is how much cash you brought in, total revenue is the number you need.
Uses of Gross Revenue.
Total sales helps owners to evaluate their business's financial health.
It pinpoints problem areas.
Total revenue gives a trader a jumping-off point to further explore their pricing options.
For a newly established company, total revenue is sometimes considered a measure of success.
Once you have your total revenue, you can compare it to your total expenses and determine whether or not your company is making a large enough profit to continue operating.
Formula to Calculate Total Revenue.
To calculate total sales, we multiply the quantity sold by the price of each of the items.

Example:
Calculate the total revenue of a blacksmith who plans to sell 20 swords each going for $ 200.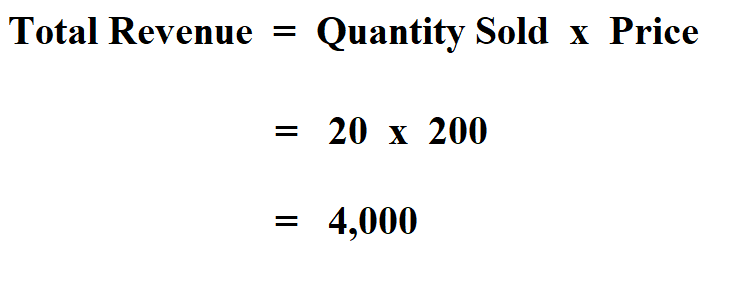 Therefore, the total revenue is $ 4,000.
Example 2:
Suppose you have a water bottle making company. If last three months you sold 1552 bottles that goes for $20 each, calculate your total revenue for the three months.
Total Revenue = Quantity Sold x Price
= 1552 x 20
Hence your total sales are $31,040