What is Marginal Revenue?
Before we discuss how to calculate marginal revenue(MR), let us define what it it. Basically, marginal revenue (MR) is the increase in revenue that results from the sale of one additional unit of output.
It is also the extra money that goes to general expenses and, in the end, to retained earnings, making it a very important number for businesses that want to focus on profitability.
Increasing marginal revenue is a sign that the company is producing too little relative to consumer demand, and that there are profit opportunities if production expands.
Importance of Calculating MR.
Understand the revenue impact of each extra unit sold. Marginal revenue is subject to the law of diminishing returns, which states that any production increases will result in smaller increases in output. It means the company has passed its optimal level.
Understand the relationship between sales and market demand. Marginal revenue helps companies understand the relationship between sales, market demand, and market competition.
Profit maximization. Since businesses want to maximize profit, they need to keep producing more output so long as each additional unit adds more to the revenue side than the cost side.
Learning how to calculate marginal revenue can help analyze consumer demand, forecast production schedules, and set the pricing of units.
What is a Marginal Revenue Curve?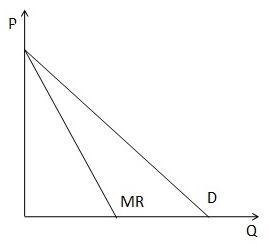 The marginal revenue curve is a graph that can represent the relation between the marginal revenue earned and the number of products sold.
Depending on your industry's competitive landscape, the marginal revenue curve can have a broad spectrum of variations and in a highly competitive market, you would have little wiggle room to set your pricing.
Since the pricing is consistent, the MR will also maintain consistency regardless of the quantity produced. A rational business would then produce the quantity where the horizontal marginal revenue meets its slope of marginal cost.
Formula to Calculate Marginal Revenue.
To calculate MR, we divide the change in total revenue by the change of its total output quantity.

Example:
Suppose the change in revenue is $ 100,000 while the change in quantity is 50. Calculate the marginal revenue.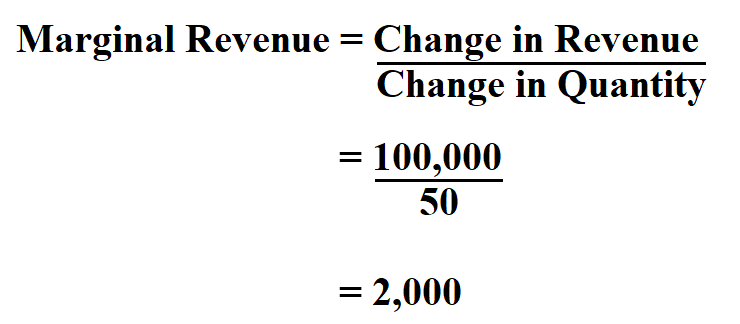 Therefore, the marginal revenue per additional unit sold is $2,000.