What is Degree of Unsaturation?
Before we dive into how to calculate degrees of unsaturation, we will begin by defining what the degrees of unsaturation are. There are several methods used to determine the structure of an organic compound and this is one of them.
The degree of unsaturation also known as index of hydrogen deficiency tells you how may rings and multiple bonds are present in a compound provided you know the molecular formula of the compound.
Knowing the index of hydrogen deficiency make it easier to figure out the molecular structure and also helps when double-checking the number of pi bonds and/or cyclic rings.
The alkanes having single bonds are classified as saturated whereas the alkenes and alkynes having double and triple bonds respectively are classified as unsaturated hydrocarbons.
The degree of unsaturation of an organic molecule cannot be a negative number because it represents the number of rings or pi bonds present in that compound.
Uses of Degrees of Unsaturation.
The index of hydrogen deficiency is used in organic chemistry to help draw chemical structures.
The degree of unsaturation helps us to identify an unknown organic molecule.
Calculating the degree of unsaturation gives you information about the total number of pi bonds and rings that can be present within a molecule
Formula to Calculate Degrees of Unsaturation.
Method 1:
To find the degrees of unsaturation when the molecular formula provided.
Count the number of carbon, hydrogen, nitrogen, and halogen atoms present in the compound.
Double the number of carbons and from this number subtract the number of hydrogen and halogens.
Add 2 to the number of nitrogen
Divide the new number by two.

C is the number of carbons
N is the number of nitrogen
X is the number of halogens (F, Cl, Br, I)
H is the number of hydrogen
Example 1:
Calculate the degrees of unsaturation of benzene.
Benzene's chemical formula is C6H6.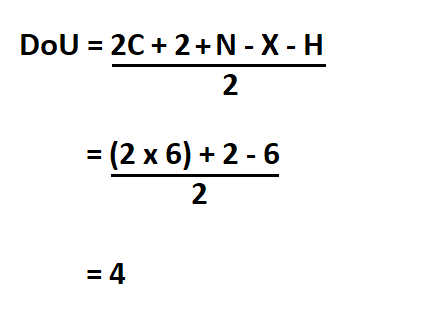 Hence, the compounds DoU is 4.
Method 2:

A Pi bond is a covalent bond resulting from the formation of a molecular orbital by side-to-side overlap of atomic orbitals along a plane perpendicular to a line connecting the nuclei of the atoms.
Example 2:
Suppose you have a compound that has 1 Pi bond and two rings. Calculate it degree of unsaturation.

Therefore, the compound's DoU is 3.