To calculate bond order, we need to know what it is first. Simply, we define bond order as half the difference between the number of bonding and anti-bonding electrons.
Stable bonds have a positive bond order.
Formula to Calculate Bond Order.
To calculate the bond order, we start by drawing the Lewis structure. A Lewis Structure is a very simplified representation of the valence shell electrons in a molecule. It is used to show how the electrons are arranged around individual atoms in a molecule.
There are different types of bonds between two atoms;
No bond
Single bond
double bond
triple bond
Example 1:
Find the bond order of hydrogen gas ( H2 ).
The Lewis structure for hydrogen gas is as follows.
H : H, this means that only one pair of electrons are shared hence a single bond which also means that hydrogen gas has a bond order of 1.
Example 2:
For polyatomic molecules like a nitrate, it is calculated a little bit differently.
We still begin by drawing the Lewis structure of Nitrate.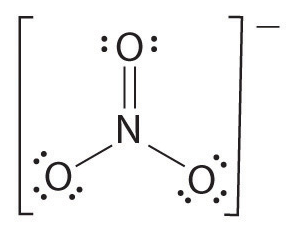 The total number of bonds in this structure is 4, ( N-0, N-O, N-O, N-O).
While the number of bonding groups is 3, ( N=O, N-O, N-O ).
Therefore, to calculate bond order, we divide the total number of bonds by number of bonds between individual atoms.
= 4 ÷ 3
= 1.33
Therefore nitrate has a bond order of 1.33.