Boiling point is a temperature at which the pressure exerted by the surroundings upon a liquid equals to the pressure exerted by the vapor of the liquid.
At this point, addition of heat results in the transformation of the liquid into its vapor without raising the temperature.
Formula to calculate boiling point.

M is the morality of the substance.
Kb is the boiling point constant which can be found in books or online.
Example:
Calculate the boiling point of a 0.02 M aqueous solution whose boiling point constant is 1.19 degrees C/m.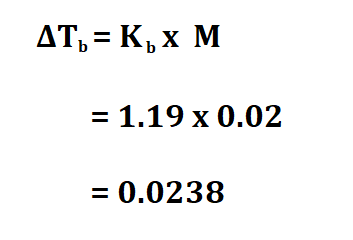 If the substance was not in a solution state, then 0.0238 degrees celsius would have been its boiling point. Since water is also present, we add the boiling point of water which 100 degrees celsius to 0.0238 degrees celsius to get 100.0238 degrees celsius.