What is Speed?
The measurement of how fast an object is moving concerning time is called speed. You can manually calculate the speed of any object from one point to another.
How Can We Calculate Speed?

Distance – This is the distance covered by a moving object in a period of time.
Time – This is the amount of time taken by the moving object.
Example;
An electric train covers a distance of 20km in 2hours time.Calculate the speed of the train.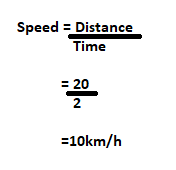 Also read: How to calculate velocity