Before we discuss how to calculate productivity, lets define it. Productivity is a measure of the efficiency of a person, machine, factory, system, etc in converting inputs into useful outputs.
Measuring productivity is one thing that is common among all successful business organizations that have set themselves apart from the rest and is the best way to ensure a productive workforce.
For businesses, productivity growth is important because providing more goods and services to consumers translates to higher profits.
Reasons why Calculating Productivity is Essential.
Workforce optimization. Calculating productivity provides the data to make tweaks to employee work schedules and organizational structure, reduce operational costs, and optimize employee performance.
Creating financial impact.
Tracking changes to productivity.
Managing your business. A firm understanding of your organization's productivity levels allows for better decision-making.
How to Improve Productivity.
Employee engagement.
Automate repetitive task.
Clearly define productivity for each role.
Formula to Calculate Productivity.

Example:
According to the accounts department, a company had produced 150,000 units last month and the employees used 100 hours to complete the production. Calculate the company's productivity.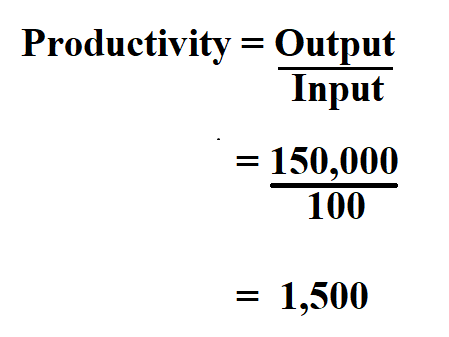 Thus, the productivity was 1,500 units per hour.
Other Methods to Measure Productivity.
360-Degree feedback. With this method coworkers are asked to rate how the employee in question has contributed to the company and how well they have fulfilled their duties.
Total Sales. Another common way to measure a company's labor productivity level is to divide the total sales by the total amount of hours worked.
Management by objectives. This is a strategic management method where business owners or project managers define measurable and clear goals and provide their employees with the necessary tools to achieve them.
Online time tracking and management software. Using electronic time sheets, companies track data about employees more accurately in real-time. These data can then be used to create performance reports for each employee.