Prior to discussing how to calculate labor productivity, let us begin by defining it. Labor productivity also known as workforce productivity represents a country's economy or an organization's output based on the goods and services provided as a function of the total number of hours worked.
Factors Affecting Labor Productivity.
Training. You can increase workforce productivity by ensuring that employees attend targeted training.
Overtime. subjecting your employees to overtime hours as this will impact the productivity negatively. If it a must for them to work overtime, you should be compensate them accordingly.
Motivation. It is important to create an environment where the workers feel motivated and confident.
Inputs used. Using raw materials or defective machinery your productivity will be affected.
Employee turnover rate. As more experienced people are replaced by new ones, the productivity level tends to fall.
Benefits of Measuring Workforce Productivity.
Measuring labor productivity can help you measure changes in output trends over time.
Noticing trends in labor productivity can help identify opportunities for additional employee training.
When you measure labor productivity, you might notice ways to support employees' productivity using additional operational and fiscal resources.
Labor productivity is an important factor in determining the long-run trend rate of economic growth.
Formula to calculate labor productivity.

Example:
A factory with 800 employees produced 80,000 items in a certain month. Calculate the labor productivity.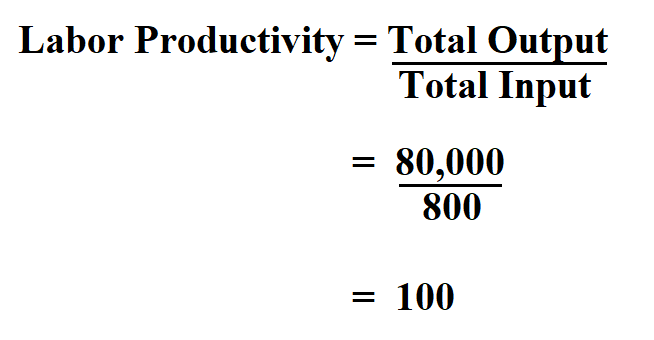 Therefore, one employee produces 100 items.