What is Molality?
Prior to discussing how to calculate molality(m), let us define it. Molality or molal concentration, is a measure of the concentration of a solute in a solution in terms of amount of substance in a specified amount of mass of the solvent.
The SI unit for molality is mol/kg and unlike molarity, which depends on the volume of the solution, molality depends only on the mass of the solvent.
Molality is mainly used when working with a range of temperatures as mass does not vary with ambient conditions like temperature and vapor pressure.
Characteristics of Molality.
Molality is denoted as a property of a solution.
It is an intensive property thus it will not differ from sample to sample for a given solution.
The number of moles of solute and the mass of solvent are generally not affected by pressure and temperature of system. Henceforth, molality unlike molarity, is not dependent on temperature and pressure.
Molality is referred to a non-volumetric concentration such as mole fraction and mass fraction.
Advantages of Molality.
Since it is solely dependent on the mass of solute and the solvent. What it means is that these factors are not affected by changes in temperature or even pressure as in the case of solutions prepared volumetrically.
it is quite useful because in a solution the molality of one solute is independent of the existence of other solutes
The disadvantage of using molality is that it is not applicable in instances where there is no pure substance in a mixture.
Formula to Calculate Molality.
It is easy to calculate m if we know the mass of solute and solvent in a solution. Molality is an intensive property, and is therefore independent of the amount being measured.

Example 1:
Suppose you dissolved 0.5 moles of Sodium chloride in 1Kg of water. Calculate its m.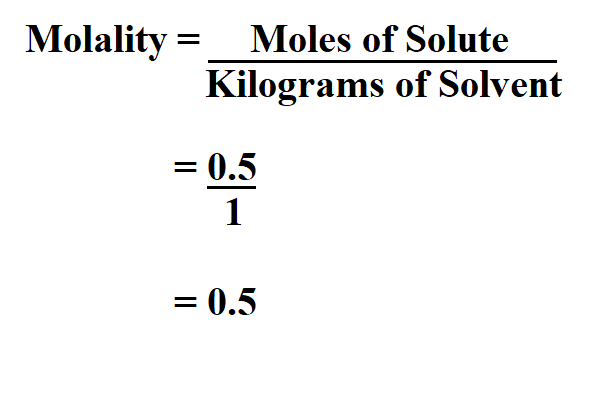 Thus, the molality is 0.5 molal.
Example 2:
Calculate the molality of a solution prepared from 40.00 grams of Na Cl in 4 kg of water.
Solution.
Solute = 40.00 gm of Na Cl
Solvent = 4 Kg of water
Molar mass of solute that is Na Cl = 58.44 gm/mol
number of moles of solute = 40.00 / 58.44
= 0.68 mol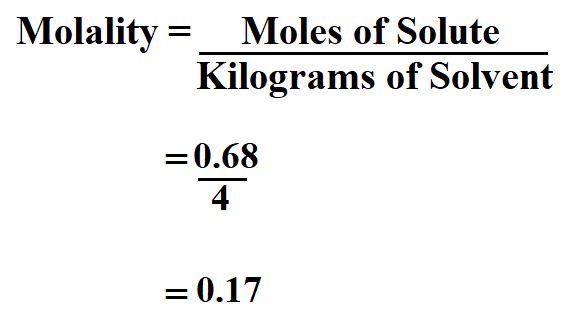 Therefore, the molality is 0.17 molal.