What is RF Value?
In order to calculate the Rf value, we will need to understand the meaning of rf values.
Rf is short for retention or retardation factor. We can define it as the ratio of the distance the spot moved above the origin to the distance the solvent front moved above the origin.
Retention factors range between zero and one due to the fact that the solvent front is always larger from the distance traveled by the solute.
Retention factors are useful in comparing the results of one chromatogram to the results of another. If the conditions in which the chromatogram are run are unchanged, the retention factor for a given material should remain constant. This allows unknowns to be compared to the known materials.
Factors affecting Rf values.
The rf values of a particular substance should be constant irregardless of the concentration of the analyte. However, sometimes the rf value of a substance may change due to the following factors.;
Concentration of stationary phase
Mobile phase
Concentration of mobile phase
Stationary phase
The rf values are applied in chromatography in order to make the technique more scientific rather than a mere interpretation by sight.
Formula to Calculate the Rf Value.
The Rf value of a compound is equal to the distance traveled by the compound divided by the distance traveled by the solvent front.

Example 1:
A solvent front traveled for 0.7cm on a thin-layer chromatography paper (TLC) while a compound traveled for 0.5 cm. Calculate the Rf value.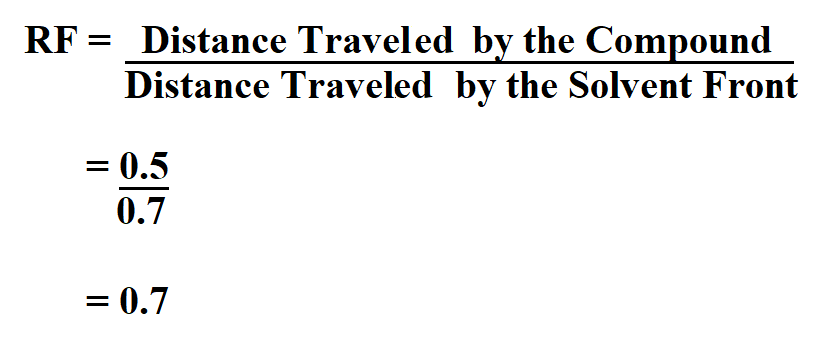 Therefore, the rf value is 0.7.
Example 2:
Calculate the Rf value if a compound travels 2.5 cm and the solvent front travels 6.0 cm.
Therefore, the rf value is 0.42.