In this article, we will define and discuss how to calculate area of a triangle. Triangles have three sides and usually represent half a rectangle or square. There several different types of triangles but all of them have three sides, and it's possible to calculate their area.
There exists several mathematical formulas you can use to calculate the area of a triangle depending on the type of triangle, and the information you have about the triangle.
Formula to Calculate Area of a Triangle.
The most basic formula is,

The base is the length of the base of the triangle. Height is the Vertical distance from the base to the highest point of the triangle.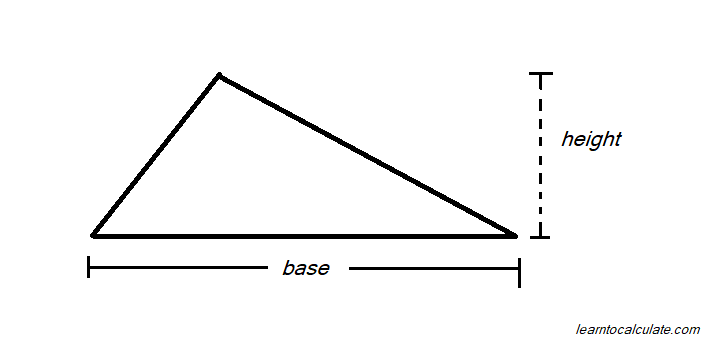 Most triangle problems will be presented to you with a defined base. This formula also works for right angled triangles. As long as there is a visible base, and you're provided with, or you can measure or even calculate the base and the vertical height of the triangle. The area of a triangle is represented in units squared.
Example
If the triangle above has a base of 5cm and a vertical height of 3cm, What is the area of that triangle?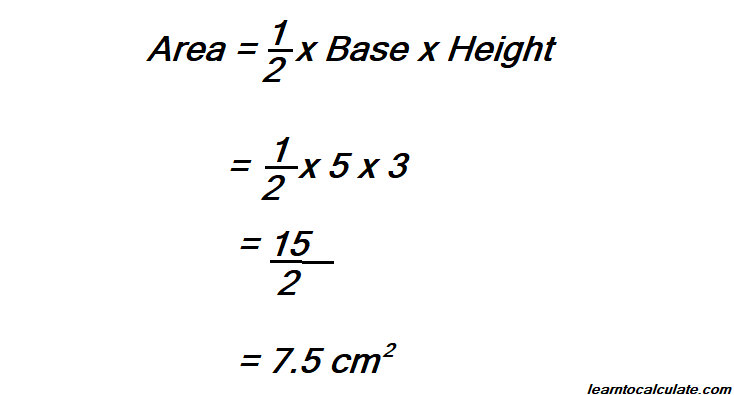 That was easy right? That's because we ad everything handed to us and all we had to do was feed in the values of the base and the height(vertical) into the formula and we had our answer. You could have a different scenario.