Target heart rate is the recommended range of exercise intensity for improving health-related physical fitness.
Doctors use target heart rate to interpret the results of a cardiac stress test.
Formula to calculate target heart rate.
Calculating your target heart depends on how physically fit you are.
For example, if you believe you are out of shape, your target rate should be 50% to 70% of your maximum heart rate.
Example:
Suppose you are just starting an exercise program , if your maximum heart rate is 170 beats per minute, calculate your 70% target heart rate.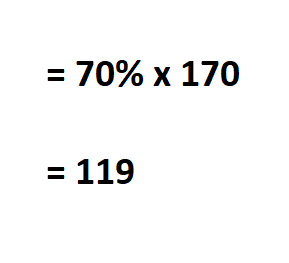 Therefore, your target heart rate is 119 beats per minute.