Wearing an ill-fitting bra is more than just uncomfortable. It is important to know your bra size as although it is not visible to the public, it gives you confidence in your outer wear.
The right bra size also gives a good posture to your body, hence you don't harm your back.
Formula to calculate bra size.
We first get the band size (below your arms and around your upper chest) using a tape measure.
Then take your bust measurements; place the tape meaure loosely around the fullest part of your bustline.
To get your cup size, subtract the band size from the bust measurement.
Example:
If your band size is 42 inches and your bust measurement is 48. What is your cup size.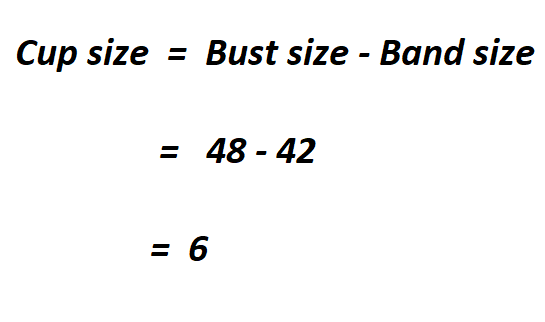 Therefore, the cupsize is 6 inches.
We can now use this cupsize to get your bra size from a bra size chart.
The bra size charts are different in every country so in this case we will use a br size chart for the united states. The chart is normally upto 16 but we will have a chart that is upto 9.
Cup size
Difference between bust and
band size.
AA
Less than 1 inch.
A
1
B
2
C
3
D
4
DD/E
5
DDD/F
6
DDDD/G
7
DDDDD/H
8
DDDDDD/I
9
So in our case, the cup size is DDD/F. So if you were to buy a bra, you would buy one with band size 42. Therefore, your bra number is 42DDD.