In this article we will learn to calculate our bra size, but before then, lets talk about why it is important to know your bra size. Wearing an ill-fitting bra is more than just uncomfortable. While a good bra goes completely unnoticed, a bad fitting bra can come between you and a productive day at work or simply the ability to make a graceful descent down a flight of stairs.
The right bra size ensure that those you own fit, flatter and offer all the support they're intended to and also gives a good posture to your body, hence you don't harm your back.
Here are some of the signs that you may not be wearing the right bra size:
Wrinkling in the cups
Underwire poking the sides of your breasts
A band that rides up
Cup spillage
Slipping straps
Bra that hikes up when you lift your arms
Formula to Calculate Bra Size.
We first get the band size (below your arms and around your upper chest) using a tape measure.
Then take your bust measurements; place the tape measure loosely around the fullest part of your bust line.
To get your cup size, subtract the band size from the bust measurement.
Cup Size = Bust Measurement – Band Size
Example:
If your band size is 42 inches and your bust measurement is 48. What is your cup size.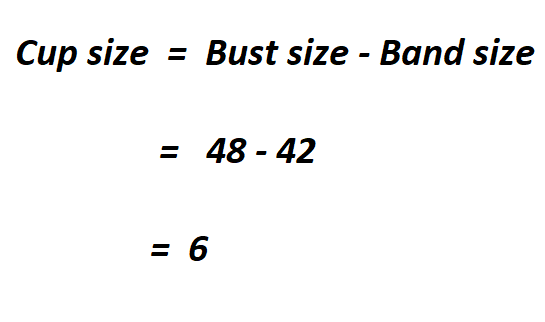 Therefore, the cup size is 6 inches.
We can now use this cup size to get your bra size from a bra size chart.
The bra size charts are different in every country so in this case we will use a bra size chart for the united states. The chart is normally up to 16 but we will have a chart that is up to 9.
Us Cup size
Difference between bust and
band size.
AA
Less than 1 inch.
A
1
B
2
C
3
D
4
DD/E
5
DDD/F
6
DDDD/G
7
DDDDD/H
8
DDDDDD/I
9
So in our case, the cup size is DDD/F. So if you were to buy a bra, you would buy one with band size 42. Therefore, your bra number is 42DDD.