Prior to discussing how to calculate NPV in excel, let us define it. The net present value (NPV) is just one of the many ways to determine the return on investment.
The reason that NPV is often chosen as the model for financial analysts is because it evaluates the time value of money and delivers a specific comparison between initial cash outlay versus the present rate of return.
Formula to Calculate NPV in Excel.
There are two methods to calculate the NPV in the Excel sheet.
First is to use the basic formula or use the excel's NPV function.
Example:
Suppose you have the cash flows of a certain project X as follows.
| | |
| --- | --- |
| Year | Cash flow |
| 0 | 100,000 |
| 1 | 120,000 |
| 2 | 90,000 |
| 3 | 130,000 |
| 4 | 80,000 |
If the discounting factor is 10%, calculate the NPV.
First we will need to transfer the data to an excel spreadsheet.

Just like other functions, we have an NPV function in excel. When you click on it, something like this should appear. This is where you fill in the discounting rate and the numbers you want to find NPV for.
You should note that we add the initial outlay to the total.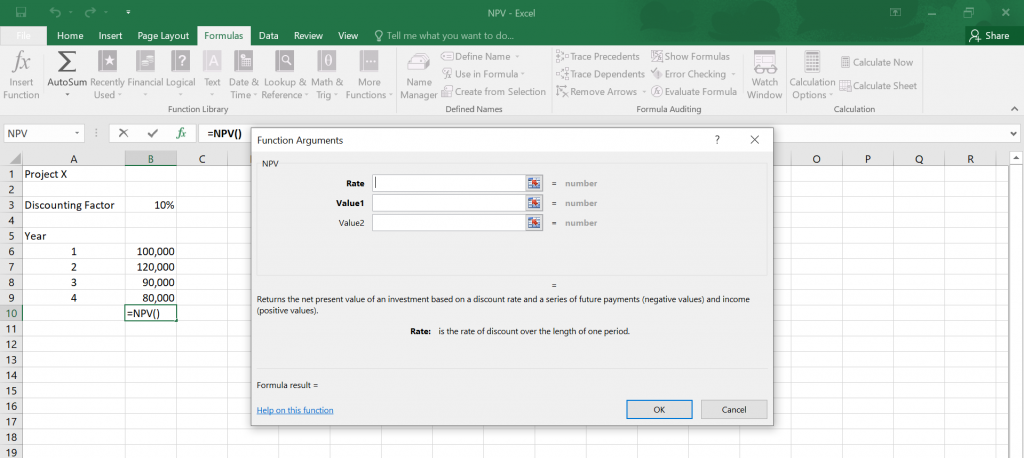 Therefore, the your NPV is 343,576.258452291.