Time is the indefinite continued progress of existence and events that occur in an apparently irreversible succession from the past, through the present, into the future.
We measure time using clocks.
Formula to calculate time.
If the time involved is of the same day, it is to calculate it as you will use subtraction. The difference comes in when the times involved are of different days.
Example:
Suppose you were asked to calculate the time a train took in different stops.
| | |
| --- | --- |
| Arrival Time | Departure Time |
| 8:15 AM | 12:30 PM |
| 1:00 PM | 2:15 PM |
| 3:00 PM | 3:50 PM |
| 5:20 PM | 6:30 PM |
We begin by transferring our data to an excel spreadsheet.
We then subtract column B from column C.

But when we subtract like this it gives us the answer in AM and PM.
To rectify this, we select the the time column cells and right click, we go to format cells then click on custom and change the format to "h,mm" and click OK.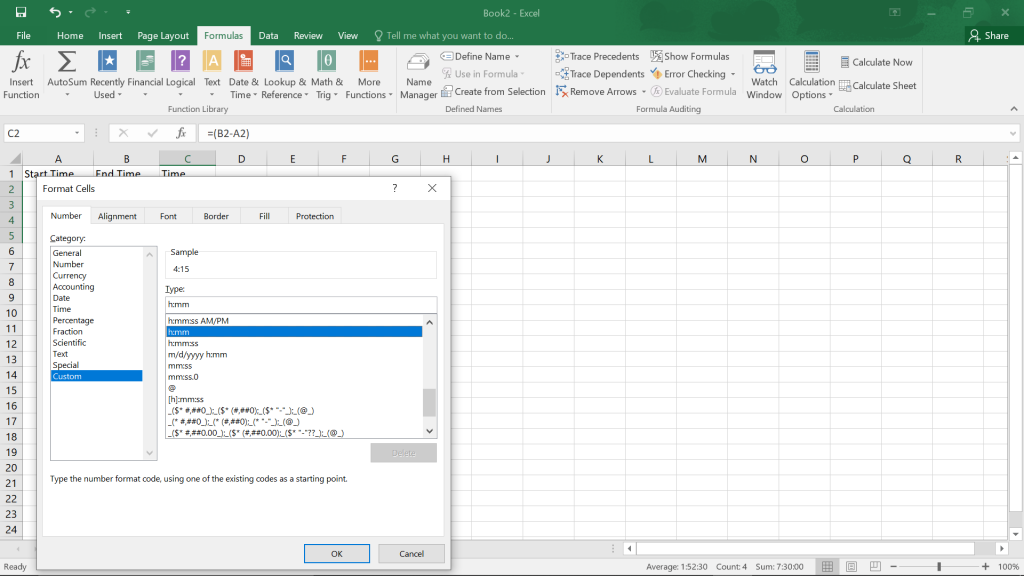 We end up getting our answer in hours and minutes.

Therefore, we can say in the first stop, the train took 4 hours and 15 minutes.