Ahead of discussing how to calculate IRR in excel, let us define IRR. IRR is short for internal rate of return.
The internal rate of return is a metric used in financial analysis to estimate the profitability of potential investments.
Calculating the IRR will show if your company made or lost money on a project and if the project was worthwhile.
Formula to Calculate IRR in Excel.
Excel offers three functions for calculating the internal rate of return, each of which represents a better option than using the math-based formulas approach. These Excel functions are IRR, XIRR, and MIRR.
In our case, we will use the IRR function.
=IRR(X1:Xn)
Example:
Lets consider a project whose useful life was 4 years.
| | |
| --- | --- |
| Period | Cash flow |
| Initial Investment | -70,000 |
| Year 1 | 10,000 |
| Year 2 | 30,000 |
| Year 3 | 20,000 |
| Year 4 | 15,000 |
We first of all need to transfer the data to an excel spreadsheet.

Then in the financial formulas section, find the IRR function and once you click on it something like this should appear.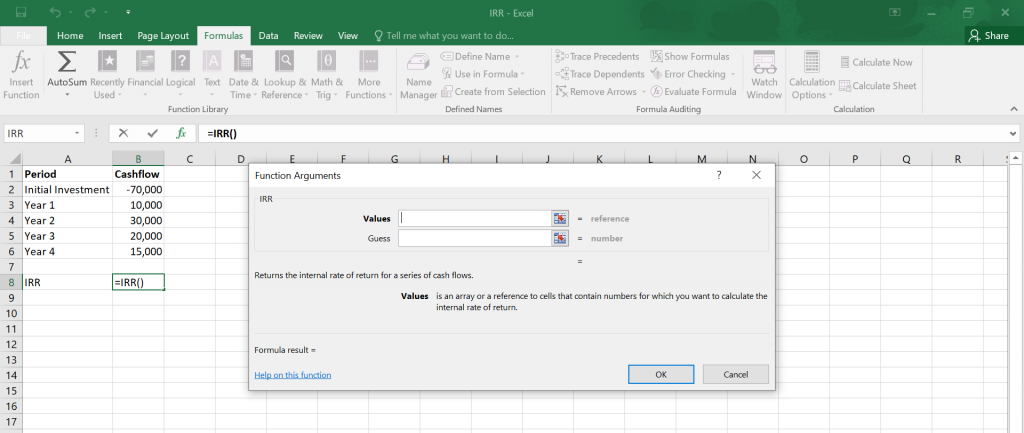 Put in the numbers you wan to calculate IRR for, in this case, its (B2:B6) and your answer should be generated in percentage form of course if you have formatted cells and put percentage.

Therefore, your IRR is 2.77%.