What is Fixed Cost?
Ahead of discussing how to calculate fixed cost, lets begin by defining it. Fixed cost refers to the cost of a business expense that doesn't change even with an increase or decrease in the number of goods and services produced or sold.
Fixed costs are commonly related to recurring expenses not directly related to production. Some examples of fixed costs include:
Website. Most businesses have a website to keep up their internet presence. They usually pay a set fee for website design, website hosting, and search engine optimization.
Permits and licenses. The licenses and permits you need to do business are a fixed fee and likely won't be affected by your production volume.
Property rent.
Utility bills. For the most part, electricity, internet, and telephone bills will fluctuate very little throughout the year.
Insurance:
Property taxes.
Manufacturing equipment
Vehicles
Online stores.
Formula to Calculate FC.
Method 1.

Total cost is an economic measure that sums all expenses paid to produce a product, purchase an investment, or acquire an equipment.
A variable cost is an expense that rises or falls in direct proportion to production volume.
Example 1:
The total cost of producing 20 pairs of sandals is Sh. 20,000 while its variable cost amounts to Sh. 10,000. Calculate the fixed cost of production.

Therefore, the fixed cost of the production is Sh. 10,000.
Method 2.
Example 2:
Suppose the cost of production of 1,000 bags of chips whose cost is $2 each. If the total cost of production is $3200. Calculate the fixed cost of producing the chips.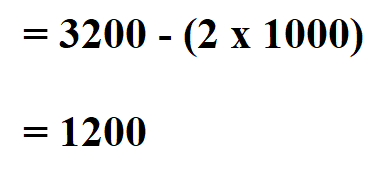 Hence, the fixed cost is $1200.