What is Average Fixed Cost?
Ahead of discussing how to calculate average fixed cost(AFC), let us define what a fixed cost is. Fixed costs are those costs that must be incurred in fixed quantity regardless of the level of output produced.
Average fixed cost (AFC) is the fixed cost per unit of output. It is used to calculate the total cost that should be allocated to each unit produced.
Average fixed cost decreases with additional production. Basically this means that since fixed cost is does not change with the quantity of output, a given cost is spread more thinly per unit as quantity increases.
Examples of average fixed cost are the salaries of permanent employees, the mortgage payment on machinery and plant, rent, etc.
Additionally, average fixed cost is relevant only in the short-run since all inputs are variable in the long-run.
Importance of Calculating Average Fixed Cost.
AFC is used by companies to analyze their expenses hence finding ways to reduce them and make their business bring more revenue.
Also AFC is used to measure the breakeven point.
Average fixed cost helps you define the efficiency of production and the economies of scale.
With the help of AFC, you can find out the number of funds you should allocate to produce one unit. Le
Formula to Calculate AFC.
Division Method.
This is where we divide the total fixed cost by the number of products manufactured by your company during this specific period.

Output is the quantity of goods and services produced in a given time period. The level of output is determined by both the total supply and total demand within an economy.
Example 1:
The fixed cost of manufacturing 10 car batteries is $ 150. Calculate the average fixed cost of the production.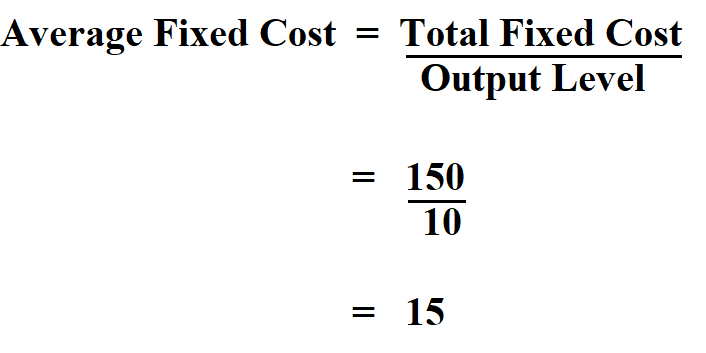 Therefore, the average fixed cost of the production is $ 15.
Method 2:
Subtraction method.
Calculate the total cost
Determine the average total cost.
Calculate the average variable cost.
Then subtract the average variable cost from the average total cost to get the average fixed cost.
Example 2:
Suppose your average total cost is $7, calculate the AFC if you've been given the average variable cost to be $5.50.

Thus, the AFC IS $1.50.