What is Average Variable Cost?
In order to understand and calculate the average variable cost, we must first and understand what total variable cost means.
The total variable cost or simply abbreviated as TVC is all the costs that vary with output, such as materials and labor. These costs are directly proportional to a business' volume of production and may increase or decrease depending on how much a company produces.
With respect to what we have learnt , we can now simply and comprehensively define the average variable cost(AVC) as the total variable cost per unit of output.
Why Average Cost is Important.
Average variable cost is significant in that it is a crucial factor in a given firm's choice about whether to continue operating. Ideally, the average variable cost should be lower than the marginal revenue in order for the firm to continue operating profitably over time.
Therefore, if the price of a good is higher than the AVC of the good, it means that the firm is covering all the variable costs and a percentage of the fixed costs. In this case, firms continue production.
Formula to Calculate AVC.
AVC is calculated by dividing total variable cost (TVC) by total output (Q). That being the case, we begin by calculating the total variable cost, then the quantity of product produced and finally the AVC.

Example 1:
The total variable cost of producing 20 Samsung phones is Sh. 2 million. Calculate the average cost.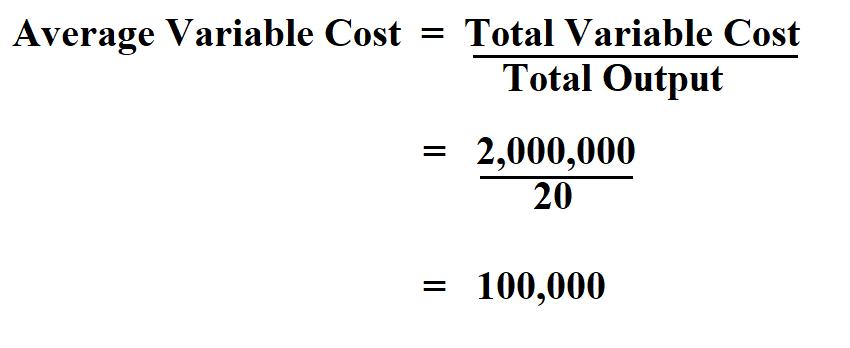 Therefore, the average variable cost is Sh. 100,000.
Example 2:
The total variable cost of a firm is $150,000 in a year. The number of units produced is 15,000. If the average total cost is $60, while the average fixed cost is $15. Calculate the average variable cost.
Solution
Variable Cost: $150,000
Quantity (Q): $15,000
Average Total Cost (ATC): $60
Average Fixed Cost (AFC): $15
Since we've been given the ATC and the AFC, all we need to d is find the their difference.
AVC = ATC – AFC
= 60 – 15
= $45