Entropy is the measure of a system's thermal energy per unit temperature that is unavailable for doing useful work.
Entropy is also a measure of the molecular disorder, or randomness, of a system as work is obtained from ordered molecular motion.
Entropy is measured in Joules per Kelvin. J/K.
Formula to calculate entropy change.

Q is the heat transfer.
T is the temperature in Kelvin.
Example:
Calculate the entropy of a reaction if the amount of heat transfer is 9200 joules and the temperature change is 274K.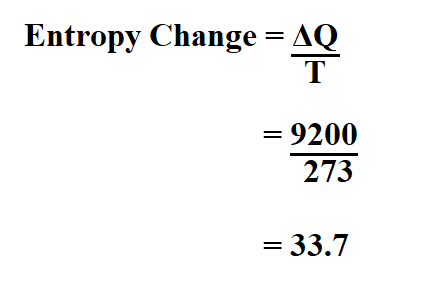 Therefore, the entropy change is 33.7j/K.