We can describe shares as the financial instrument issued by the company to raise funds from the general public.
Earnings per share (EPS) or net income per share, is the portion of a company's profit that is allocated to each outstanding share.
EPS is used by analysts and traders to gauge the financial strength of a company, and is often considered to be one of the most important variables in determining a stock's value.
A higher EPS means that a company is profitable enough to pay out more money to its shareholders
Formula to calculate EPS.
To calculate ESP, we subtract the preferred stock from net income, Then divide your result by the weighted average common shares outstanding.

Preferred Stock.
Preferred stock are all additional shares of a company's stock. They are shares of a company's stock with dividends that are paid out to shareholders before common stock dividends are issued. Mostly, preferred stock has fixed dividends. The preferred stock shareholders do not hold voting rights. Small companies do not most of the time offer preferred shares.
Common Stock.
Common stock or ordinary shares represents ownership in a company proportionally with all other ordinary shareholders, according to their percentage of ownership in the company. Dividends are not fixed in this type of shares. Ordinary shareholders have no voting rights.
Outstanding Shares.
Outstanding shares are common stock authorized by the company, issued, purchased and held by shareholders.
Weighted Average Common Shares Outstanding.
We get the weighted average common shares outstanding by adding the outstanding shares at the beginning of the financial year and at the end and dividing by two.
Example:
A company made a net income of $ 40,000 during a certain year. Since it is a small company, there were no preferred shares outstanding. The company had 5,000 weighted average shares outstanding during the year. Calculate the ESP of the company.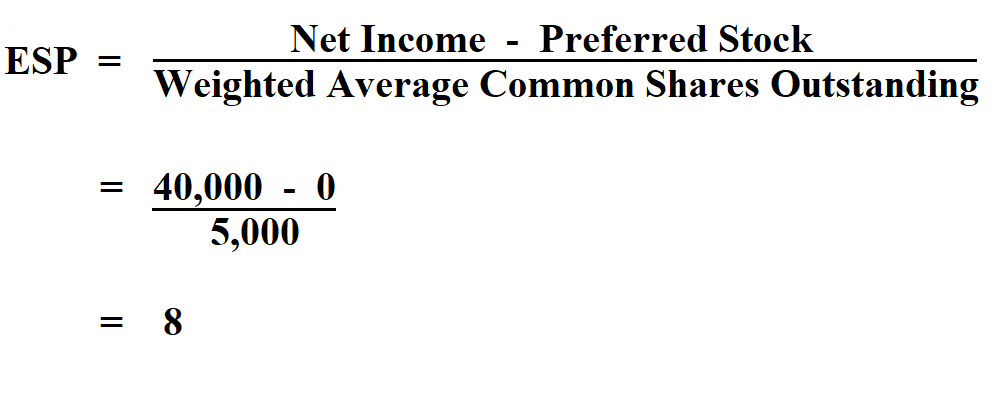 Therefore, the ESP of the company is $ 8.