What is Velocity?
Now before discussing how to calculate average velocity, let us begin by describing velocity. In ordinary language, the words speed and velocity both refer to how fast an object is moving, and are often used interchangeably.
In physics however, they are very different. While speed is the magnitude of an objects motion, velocity is the object's speed in a particular direction. Velocity is direction sensitive, unlike speed which only considers distance covered in a certain amount of time.
What is Average Velocity?
Average velocity is a vector quantity and is defined as the change in position or displacement divided by the time intervals in which the displacement occurs.The average velocity can be positive or negative depending upon the sign of the displacement. The SI unit of average velocity is meters per second (m/s or ms-1).
Formula to Calculate Average Velocity.

Example:
When a train's engine was started, its initial velocity was 20m/s, it accelerated until 50m/s and then started to decelerate. Calculate the train's average velocity before it started to decelerate.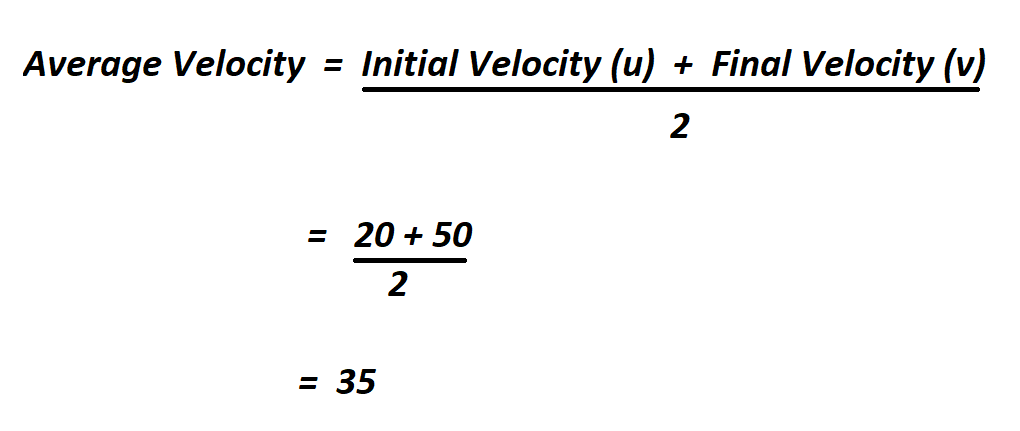 Therefore, the average velocity of the train is 35 m/s.
When is Average Velocity Equals to Zero?
Since we know that average velocity is just the average speed with a direction. Therefore, if a trip starts and ends at the same point, the total displacement is zero, so the average velocity is zero. For instance, if a remote-controlled car is racing from Point A to Point B and back to Point A, there is no overall car displacement this means that the average velocity is zero.