What is a Capacitor?
In this article, we will define and discuss how to calculate capacitance but before that lets define a capacitor.
The most common use for capacitors is energy storage. Additional uses include power conditioning, signal coupling or decoupling, electronic noise filtering, and remote sensing. The amount of storage in a capacitor is determined by a property called capacitance.
Capacitance is the ability of a component or circuit to collect and store energy in the form of an electrical charge.
We can also define it as the ratio of change in electric charge of a system, to the corresponding change in its electric potential.
The SI unit of capacitance is the farad (F).
Formula to Calculate Capacitance.

An electric charge is the property of matter where it has more or fewer electrons than protons in its atoms. Matter can either be positively or negatively charged. The SI unit of charge is Coulomb (C).
Voltage is a measure of the electrical pressure available to force the current around a circuit. The SI unit of voltage is volts (V).
Example:
Determine the capacitance of a capacitor if it has a charge of 5 C and a voltage of 12 V is passing through it.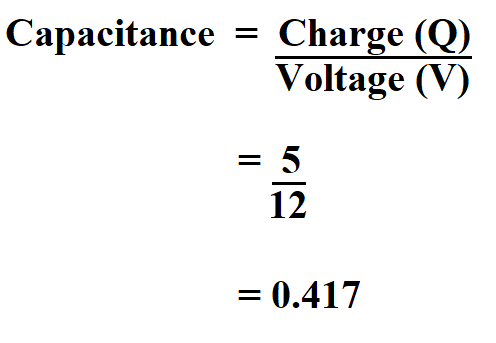 Therefore, the capacitor's capacitance is 0.417 F.