Ahead of discussing how to calculate MPG, lets define it. MPG is short for miles per gallon and it shows how far your car is able to travel for every gallon of fuel it uses.
Many modern cars have trip computers that record and calculate miles per gallon. Most give read outs for instant as well as long-term MPG, which you can often see on your dashboard. It's a quick and convenient way to see how much fuel you're using.
It is an important metric as it tells you about the difference in cost between operating different vehicles by giving you a sense of how much money you're likely to spend on gas.
Formula to Calculate MPG.
Fill up your gas tank all the way.
If your car has a trip odometer, reset it.
Drive your car as you normally would, and let your gas tank deplete to at least half it.
Refill your tank again and record the amount of gas it took to refill the tank.
Record the elapsed trip miles or new odometer mileage.

Example:
Suppose you had a full tank of gas and you drove for 300miles, when you went to refill it and 15 gallons were added to fill the tank again. Calculate your MPG.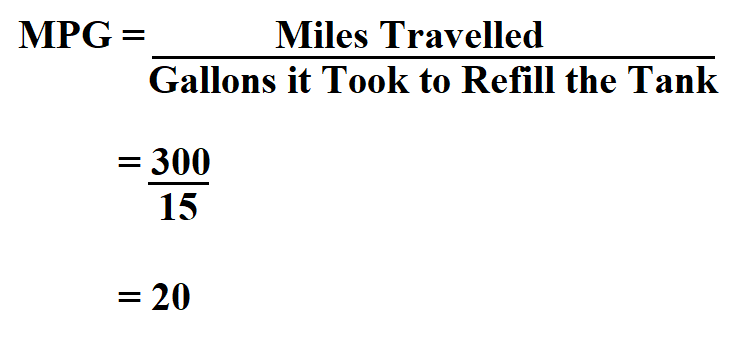 Therefore, with every 20 miles drive, you used one gallon.
How to Improve MPG.
Try to increase your car's fuel efficiency by ensuring that your tires are always properly inflated, the car has been regularly serviced and you're not carrying excess weight.
You can maximize your car's potential MPG by; avoid accelerating or breaking too hard, or switching gear in a comfortable zone before the revs get too high.
Follow guidance on how to lower car emissions which should also help your fuel to last even longer.