Friction is the resistance to motion of one object moving relative to another.
Frictional force is force resisting the relative motion of solid surfaces, fluid layers, and material elements sliding against each other.
Friction makes it possible to do a lot of things like walking without sliding or falling. This is because, when the friction reduces between the ground and your shoes, that's when you fall.
Friction can either be static (if not already in motion) or sliding friction (if already moving).
Formula to calculate friction.
To calculate friction force, we multiply the friction coefficient ( μ ) which you can get from a friction coefficient table by normal force (N) which is mass multiplied by gravity.

Example:
Calculate the friction force of a copper rod of 1 Kg being pushed from a stationary position on a steel surface.
In this case, the object was not moving so it is static friction.
And from the static coefficient table the static coefficient for copper on steel is 0.53.
Therefore,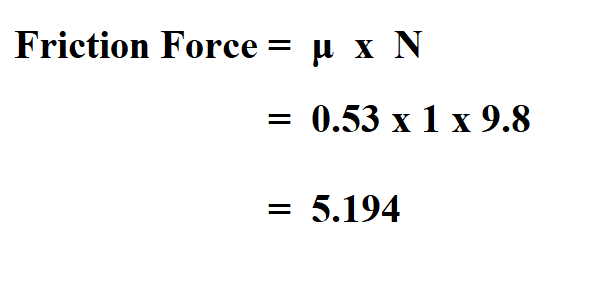 Therefore, the friction force is 5.194 N.