What is a Pipe?
Before we dive right into how to calculate the volume of a pipe, let us define what a pipe is. A pipe is a long, round or cylindrical, hollow object, usually made of metal, rubber or plastic, through which a liquid or gas can flow.
Plumbers, irrigation contractors, septic crews, and pool service workers constantly use this concept in the field to figure out the right size of pipe to install, determine water flow and pressure, or work to maximize pump efficiency.
Formula to Calculate Volume of a Pipe.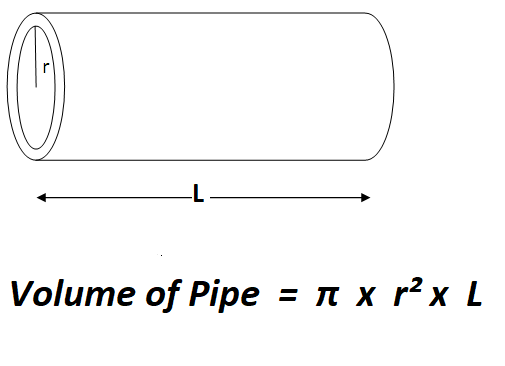 r – is the inner radius of the pipe. If you have not been given the inner radius but you have the outer radius, subtract the walls width from the outer radius to get the inner radius.
L – is the length of the pipe.
π – is a constant estimated to be 3.142.
Example:
Calculate the volume of a pipe whose inner radius is 154 cm and has a length of 1000 cm.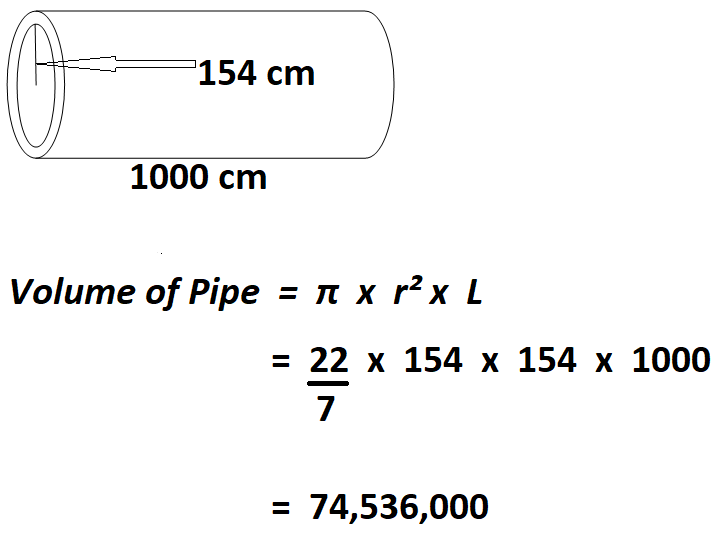 Therefore, the volume of the pipe is 74,536,000 cm³ .
Volume and Weight of Water for Common Pipe Sizes per Foot.
| | | |
| --- | --- | --- |
| Pipe Size | Volume | Weight |
| in | in3/ft | lb/ft |
| 1/8 | 0.1473 | 0.005323 |
| 1/4 | 0.589 | 0.0213 |
| 3/8 | 1.325 | 0.0479 |
| 1/2 | 2.356 | 0.0852 |
| 3/4 | 5.301 | 0.1916 |
| 1 | 9.425 | 0.3407 |
| 11/4 | 14.726 | 0.5323 |
| 11/2 | 21.206 | 0.7665 |
| 2 | 37.699 | 1.363 |
| 21/2 | 58.905 | 2.129 |
| 3 | 84.823 | 3.066 |
| 4 | 150.8 | 5.451 |
| 5 | 235.62 | 8.517 |
| 6 | 339.29 | 12.264 |