In this article, we will define and discuss how to calculate power factor. Power factor (PF) is the ratio of working power, measured in kilowatts (kW), to apparent power, measured in kilo volt amperes (kVA).
There are three types of power factors.
Lagging power factor.
Leading power factor.
And Unity power factor.
Poor power factor means that you're using power inefficiently. This matters to companies because it can result in:
Heat damage to insulation and other circuit components.
Also it can cause a reduction in the amount of available useful power.
A required increase in conductor and equipment sizes.
Power Factor Correction.
Power factor correction aims at bringing the apparent power value as close as possible to the amount of true power you are using. This will result in less current being needed to provide the same amount of true power.
Poor power factor can be corrected, paradoxically, by adding another load to the circuit drawing an equal and opposite amount of reactive power, to cancel out the effects of the load's inductive reactance.
While inductive reactance can only be canceled by capacitive reactance, so we have to add a capacitor in parallel to the circuit as the additional load.
Formula to Calculate Power Factor.

Example:
If the a capacitor can produce 119 W as true power and the apparent power is 120VA. Calculate the power factor.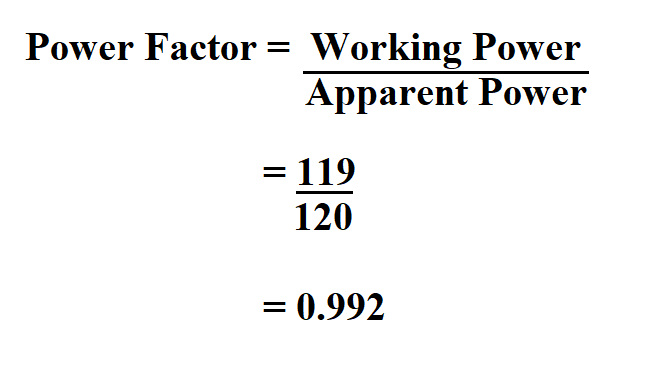 Therefore, the pf is 0.992.