What is Debt to Equity Ratio?
In this article, we will discuss how to calculate debt to equity ratio, first off, lets define it. The debt-equity ratio (D/E ratio) is a financial, liquidity ratio that compares a company's total debt to total equity. It shows the percentage of company financing that comes from creditors and investors.
What is a Good D/E Ratio?
Generally, a debt to equity ratio of around 1 to 1.5. is considered to be reasonable. However, what constitutes a good debt to equity ratio depends on the type of the industry. Lenders and debt investors prefer lower D/E ratios as that implies there is less reliance on debt financing to fund operations
What is a Bad D/E Ratio?
When the ratio is more around 5, 6 or 7, that's a much higher level of debt, and the bank will pay attention to that.
A higher debt-to-equity ratio means that the business in question carries more risk, though potentially more reward. Depending on the type of business and industry, a high debt-to-equity ratio does not necessarily mean the business is in bad shape.
Benefits of a High D/E Ratio.
A high debt-equity ratio can be good because it shows that a firm can easily service its debt obligations and is using the leverage to increase equity returns.
Another benefit is that typically the cost of debt is lower than the cost of equity, and therefore increasing the D/E ratio can lower a firm's weighted average cost of capital.
Negative Debt to Equity Ratio,
While not a regular occurrence, it is possible for a company to have a negative D/E ratio, which means the company's shareholders' equity balance has turned negative.
A negative D/E ratio means that the company's liabilities exceed its assets. In most cases, this would be considered a sign of high risk and an incentive to seek bankruptcy protection.
Formula to Calculate Debt to Equity Ratio.
Debt to equity ratio is calculated by dividing a company's total liabilities by its shareholder equity. These numbers are available on the balance sheet of a company's financial statements.

A liability is something a person or company owes, usually a sum of money.
Shareholders equity is the difference between total assets and total liabilities.
Example:
A company recorded 8 million total liabilities and 28 million total shareholders equity. Calculate the debt ratio of the company.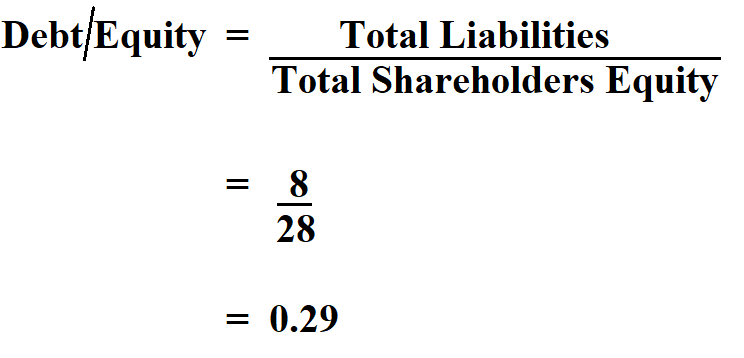 Therefore, the debt to equity ratio of the company is 0.29.