What is Interest?
In this article, we will learn how to calculate daily interest but before that, let define interest. Interest is a payment made by a borrower to the lender for the money borrowed.
While daily Interest means an amount calculated by multiplying the daily principal balance of a Loan by the associated daily interest rate on that principal.
Figuring out how your daily interest is being calculated can be helpful as it could help you for example pinpoint which credit cards you should prioritize paying down first.
Formula to Calculate daily interest.
We begin by identifying the annual interest rate and convert it to a decimal.
Then divide the annual interest rate by 365 days to get the daily interest rate.
Multiply the principal by the daily interest rate to get the daily interest amount.
Example 1:
An individual borrowed Sh. 50,000. The interest rate of the lending firm is 5 % per annum. Calculate the daily interest amount.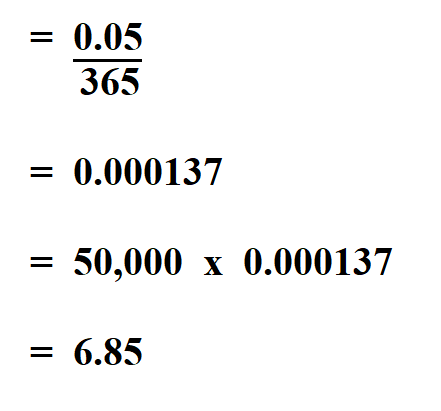 Therefore the daily interest amount is Sh. 6.85.
Example 2:
Suppose you took a loan of $4,000 to start a business and you are to pay it back in 1 year and the annual interest rate is 4.5%. Calculate the interest you pay everyday.
We begin by converting 4.5% to a decimal.
= 4.5/100
= 0.045
Then divide the annual rate by 365.
= 0.045 ÷ 365
= 0.000123
We conclude by multiplying the principal by the interest found above.
= 0.000123 x 40,000
= $4.93