What is Current Ratio?
So as to learn how to calculate current ratio, also known as the working capital, we first need to define what it is and what it entails.
The current ratio is a measure of a company's liquidity or a firm's ability to pay obligations due within one year which are also known as the short-term obligations.
The current ratio is called current because, unlike some other liquidity ratios, it incorporates all current assets and current liabilities.
Interpretation of Current Ratio.
If the current assets are greater than the current liabilities, then the ratio is greater than 1 and this what we call a good current ratio and it is a desirable situation to be in. However, a higher current ratio is not always a positive sign, instead, a ratio in excess of 3.0x can result from a company accumulating current assets on its balance sheet.
When the currents assets are equal to the current liabilities, then the ratio is equal to 1. This means that The current assets are just enough to pay down the short term obligations.
Once the current assets are less than the current liabilities, then the ratio is less than 1. This is a problem situation at hand as the company does not have enough to pay for its short term obligations.
Why is Current Ratio Important?
Working capital assess the operations of a company in terms of how financially solid the company is in relation to its outstanding debt. Knowing the current ratio is vital in decision-making for investors, creditors, and suppliers of a company. The current ratio is an important tool in assessing the viability of their business interest.
It tells investors and analysts how a company can maximize the current assets to satisfy its current debt.
Limitation of Current Ratio.
Businesses differ substantially among industries; comparing the current ratios of companies across different industries may not lead to productive insight.
It lacks specificity. Unlike many other liquidity ratios, it incorporates all of a company's current assets, even those that cannot be easily liquidated.
This ratio in isolation does not mean anything. It does not provide an insight on product profitability etc.
Formula to Calculate Ratio.

Current assets are assets that are convertible to cash in less than a year. Some examples are; cash and cash equivalent, marketable securities, accounts receivables, inventory, prepaid expenses etc.
Current liabilities are debts that are due within a year. Examples include; Accrued expenses, deferred revenue, notes payable and accounts payable.
Example:
Microsoft Corp reported total current assets of $169.66 billion and total current liabilities of $58.49 billion for the fiscal year ending June 2018. Calculate the current ratio of that year.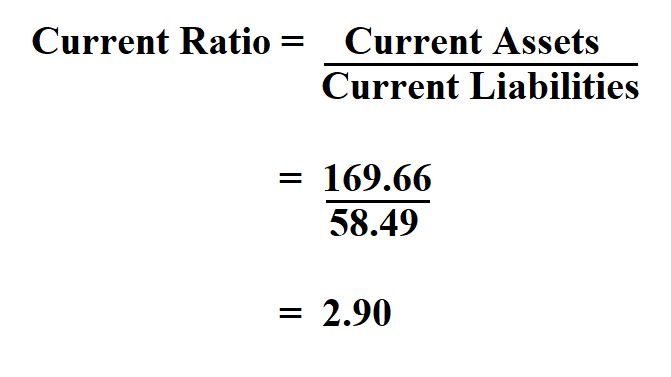 Therefore, the current ratio for the year ended June 2018 is 2.90.