The cell potential of a cell is the potential difference occurring between the two electrodes of the cell, and arises due to the transfer of electrons through the external circuit of a cell that has not reached equilibrium.
The cell potential is the way in which we can measure how much voltage exists between the two half cells of a battery.
Formula to calculate cell potential.

Red stands for reduction and Oxid stands for oxidation.
Example:
Suppose you have a voltaic cell that uses Tin and Silver, if the oxidation potential of Tin is -0.14 volts and the reduction potential of Silver is 0.80V, calculate the cell potential.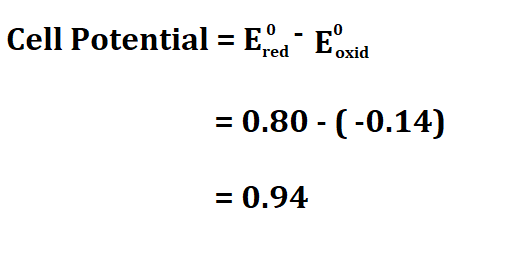 Therefore, the cell potential is 0.94V.