Weight of an object is the force which is exerted on that object due to gravity. Weight is measured in Newtons.
Weight varies from one planet to another this is due to the difference in gravity. The difference in gravity is due to the difference in the sizes of the planets, sun and moon. On sun, the gravity is stronger as more massive objects have a stronger pull than less massive objects.
Gravity on moon is 1.62 m/s² while gravity on the sun is 274 m/s² . Good examples of planets is jupiter and earth, the gravity on jupiter is 24.79 m/s² while the gravity on earth is 9.8 m/s².
Formula to calculate weight.

Mass is the amount of matter present in a body and its SI unit is kilogram (Kg).
Gravity is the force by which a planet or other body draws objects toward its center. Its SI unit is Newtons per kilograms.
Example:
The mass of a lorry is 4,000 Kg. Calculate the weight of the lorry on earth. (Earth's gravity = 9.8 m/s² ).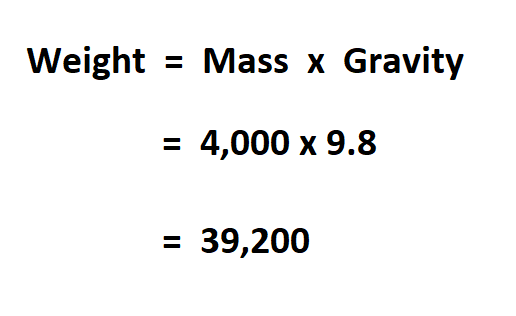 Therefore, the weight of the lorry on earth is 39,200 N.