Percentage is a fraction of a whole. In mathematics, it's usually expressed as a fraction of 100. Where 100% is whole! To calculate weight loss in percentage gives a clearer picture of the progress made since the last time one was weighed.
We already know that weight loss is a simple difference between two weight measurements taken at different times. That's how to calculate weight loss. But percentage weight loss is the 'weight loss' as a fraction of the original weight. But to make it in percentage, we have to multiply the fraction by 100 and add the % symbol to the final figure
Formula to Calculate Weight Loss In Percentage(%).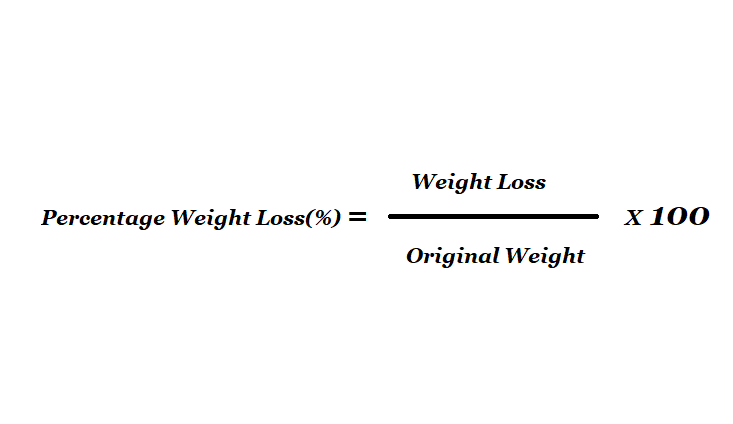 Example:
Going back to the previous example we used in calculating weight loss, Chris was weighing 80kg at first then two months later, he weighed 72kg. So we determined that his weight loss over those two months was 8kg.
So, using the percentage weight loss formula above, here's how to determine Chris' weight loss as a percentage:
Therefore Chris' weight loss as a percentage is 10%. It can be casually said that Chris lost 10% body weight in two months.
Some Facts About Percentage Weight loss:
Percentage weight loss is a fraction so it has no unit of measurement.
Weight loss can be calculated given the percentage loss and original weight.
To calculate percentage weight loss, the weight loss can be calculated in any unit as long as the same unit of measurement was used through out.