pOH is a measure of hydroxide ion (OH–) concentration.
The pOH scale is similar to the pH scale in that a pOH of 7 is indicative of a neutral solution.
pOH is used to express the alkalinity of a solution in where the pH is known.
Formula to calculate pOH.

pH is a scale used to specify the acidity or basicity of an aqueous solution.
Example:
Find the pOH of a substance whose pH is 3.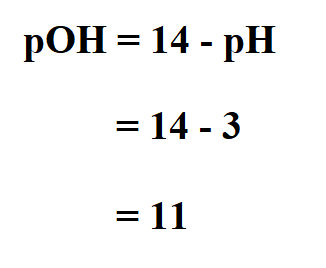 Therefore, the pOH of the substance is 11.