Kcat is the turnover number that describes the number of times each enzyme site converts substrate to product per unit time.
A Kcat of 5/second means that that enzyme makes five molecules of product per molecule of enzyme per second.
Formula to calculate Kcat.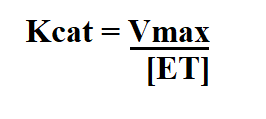 ET is the total enzyme concentration.
Example:
If the Vmax of an enzyme is 30mols/sec, calculate the Kcat if the ET is 6mols.
Therefore, your Kcat is 5/sec.