Horsepower is a unit of measurement of power, or the rate at which work is done, usually in reference to the output of engines or motors.
Formula to calculate horsepower.
For electric motor,power or horsepower can be calculated from the torque and speed.

Torque – It is the measure of rotational effort applied on engine.
Example:
Using 5,252 as radians per second calculate the horsepower of a porsche which generates 480 of torque at 2500RPM.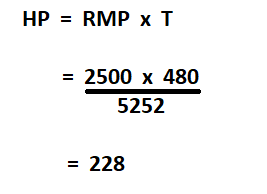 Therefore the horsepower of the porsche is 228.