GPA stands for Grade Point Average. GPA is used to calculate how high or low all your grades have been. It is an average of all your grades combined, represented with a number. It is an indicator of your academic qualitfications used everywhere from schools to universities.
How Do You Calculate GPA?
Before you can calculate your GPA, you need to know a few things:
Grades
Point value for a grade. For example, if you get an A then what value has been assigned to it? Most places assign A or A+ a 4.0, B is assigned 3, C is 2, D is 1 and F is 0.
Credit hours of the courses
The formula is very simple. You take the total point values and divide them by the total credit hours to get your GPA. A mathematical representation of it will be: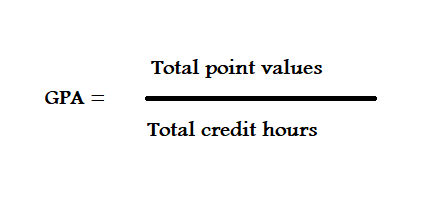 Let's take an example of a hypothetical transcript using the above assigned point values for a grade.
| | | | |
| --- | --- | --- | --- |
| Courses | Credits (Hours) | Grades | Grade Point (Point value of grade x Credit hours) |
| Economics | 5 | A | 20 |
| Accounting | 2 | B | 6 |
| English | 5 | C | 10 |
| Business Studies | 5 | F | 0 |
| Total | 17 | | 36 |
Using this information, GPA = 36/17 = 2.11. Therefore the GPA is 2.11
2.11 is the Grade Point Average (GPA) of the student and this is how it is calculated. If you get an F. That is if you fail a class then you will automatically not earn any grade points for that course which will pull down your GPA lower.
As a student, it is a good practice to keep your GPA in check and calculate it frequently so you know where you stand. It will also keep you motivated so you can improve and keep doing better.