What is a Theoretical Yield?
Theoretical yield is the quantity of a product obtained from the complete conversion of the limiting reactant in a chemical reaction.
This is the amount of product resulting from a perfect chemical reaction also known as a theoretical chemical reaction, and thus not the same as the amount you'll actually get from a reaction in the lab.
Theoretical yield is commonly expressed in terms of grams or moles.
Formula to Calculate Theoretical Yield.
The only way to know it is to calculate it using the following steps.
Balance chemical equation
Determine moles of each reactant using molecular weight and/or density
Convert moles of reactant to moles of product using mole-to-mole ratio
Using the smaller moles of product value, calculate mass or volume of the product using the molecular weight and/or density.
Or if you have the actual and percent yield, you can use the following formula.

Actual yield is the actual amount produced in the experiment which is mostly lower than the theoretical yield because few reactions truly proceed to completion. It's also possible for the actual yield to be more than the theoretical yield. This tends to occur most often if solvent is still present in the product
Percent yield is a measurement that indicates how successful a reaction has been.
Example:
Suppose you carried out an experiment and found the actual yield of the substance you wanted as 15 grams, if the percent yield is 94..4%, calculate your theoretical yield.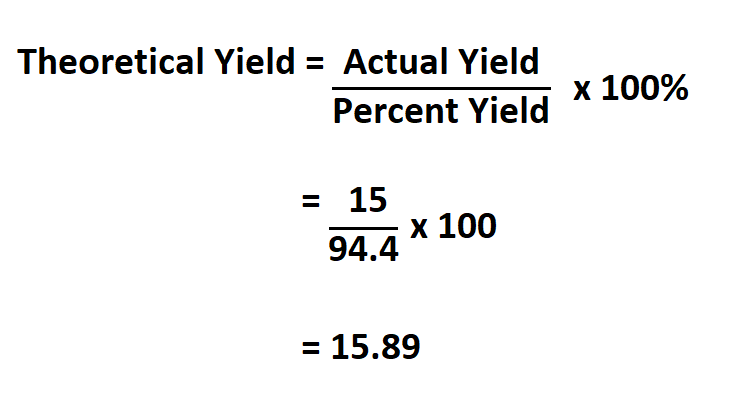 Therefore, your theoretical yield is 15.89 grams.