What is Return on Assets?
Prior to learning how to calculate return on assets, lets define it. The Return on Assets (ROA) is a profitability metric that measures the efficiency at which a company can utilize its assets to generate more net earnings.
This ratio indicates how well a company is performing by comparing the profit it's generating to the capital it's invested in assets.  The higher the return, the more productive and efficient management is in utilizing economic resources.
How to Interpret ROA.
Simply put, companies with consistently higher ROAs can derive more profits using the same amount of assets as comparable companies with lower ROAs.
Companies with a ROA higher than comparable companies, it can be reasonably assumed that the company's assets are being used near full capacity, or at the very least, used more efficiently than its industry peers.
A lower ROA relative to the industry average can be a red flag indicating that management might not be deriving the full potential benefits from the assets it owns.
If a company's ROA is rising over time, that suggests the company is improving on its ability to increase its profits with each dollar of asset owned.
A company's with a declining ROA indicates that the company might have purchased too many assets or is failing to utilize its assets to their full capacity.
Formula to Calculate Return on Assets.

Net income is the amount of total revenue that remains after accounting for all expenses and deducting them from the total income.
Average total assets is the sum of the value of assets at the beginning of an accounting period and the value at the end,divided by two.
Example:
Calculate the return on assets of a company whose net income in a certain year was $ 5,000,000 and the value of the total assets at the beginning of the year was $ 300,000,000 and at the end it was $ 290,000,000.
We begin by finding the average total assets for the year.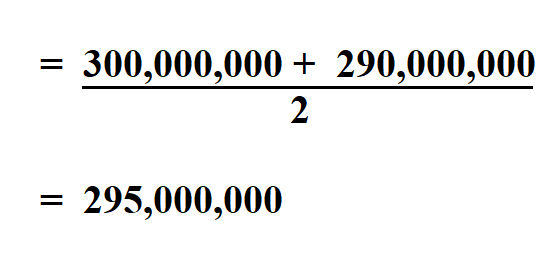 Then we calculate the ROA.

Therefore, the return on assets is 16.94%.